STVS – A GUI for Geteta¶
stvs provides a graphical user interface for the verification of Structured Text source code against generalized test tables.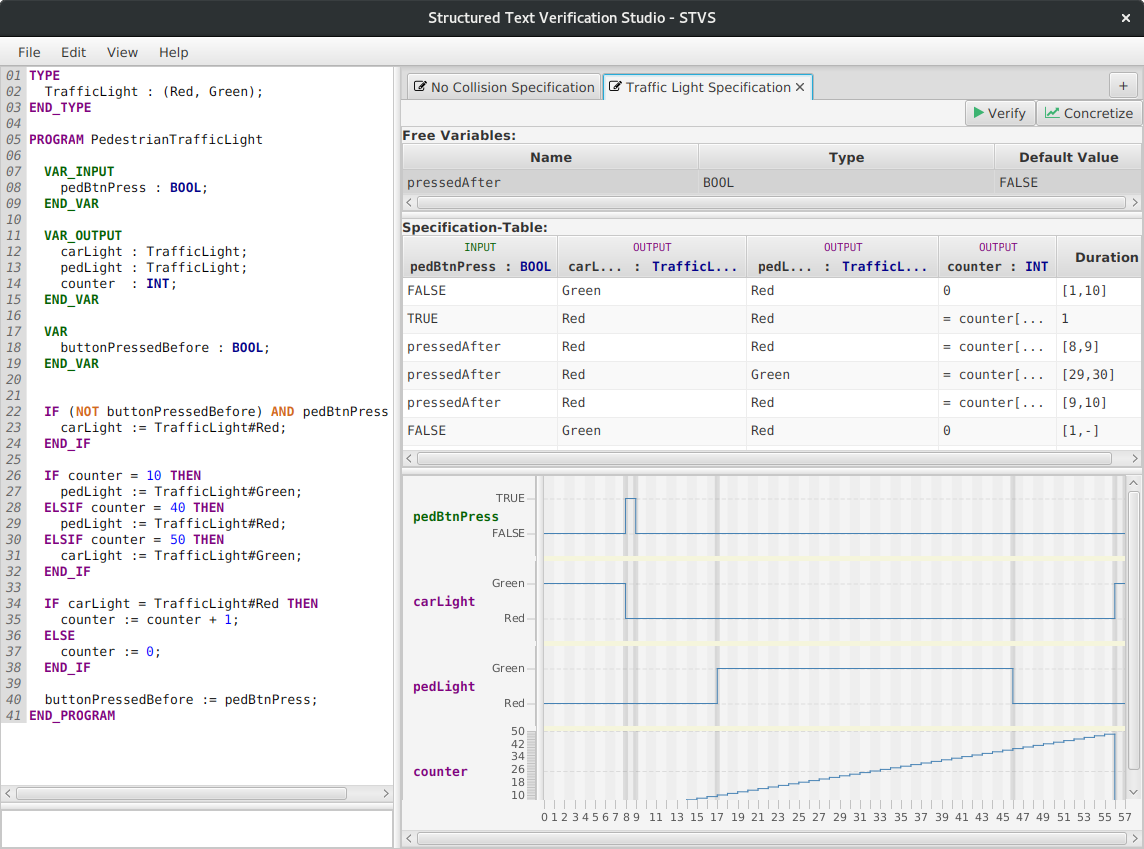 It is a graphical frontend for the geteta backend, providing a useful and beautiful user interface, e.g., a visualization of specification violations.
stvs is open source, provided under GNU Public License v3.
Features¶
Verification of Structured Text against one or more specified generalized test tables
Transform a generalized test table into a concrete test table
Source Code Editor for Structured Text
Getting Started¶
Before you can use the full feature set you need to install z3, geteta, and nuXmv.
nuXmv is the model checker distributed under an academic license. Obtain a copy from nuxmv.fbk.eu and uncompress it.
z3 is available as binaries on their website. On Ubuntu you can install z3 through the package manager. (sudo apt-get install z3)
geteta translates generalized test tables into models for nuXmv and runs the verification. You can obtain the latest version from VerifAPS/geteta
Downloads¶
Version 1.3.0 (20.07.2017)

Important: examples not finished
Specification supports navigation with tab and cursor keys
New UI of the specification table
Bug fixes in syntax highlightning
New XML-Namespace for config, session and specification files
New action: Resize of the specification

Version 1.2.0-beta (14.04.2017)

add examples menu
UI improvments in dialogs
default value of free variables are now arbitrary cell constraints

Version 1.1.0
The sources are available on `github.com/VerifAPS/stvs`__.
Documentation Material¶
Acknowledgement¶
This software was designed and implemented during the course Praxis der Softwareentwicklung by these students:
Benjamin Alt
Carsten Csiky
Lukas Fritsch
Leon Kaucher
Philipp Krüger
Contact¶
Feel free to use the issues tracker.